Speakers
MARTHA THORNE
Martha Thorne is Dean of IE School of Architecture & Design, an innovative, international, private institution, which is part of IE University, Spain. She is Executive Director of the Pritzker Architecture Prize, a position she has held since 2005. In this role, she manages the nominations process, works closely with the jury and represents the Prize at public functions. From 1995 to 2005, she served as curator in Department of Architecture at The Art Institute of Chicago. She has written numerous articles for books and journals on contemporary architecture. She served on the board of directors of the International Archive of Women in Architecture and has participated on international national juries for the new National Museum of Chinese Art, Zaryadye Park in Moscow, among others. She is currently on the jury for ArcVision – Women and Architecture Prize.

Ms. Thorne received a Master of City Planning degree from the University of Pennsylvania and a Bachelor of Arts in Urban Affairs from the State University of New York at Buffalo. She undertook additional studies at the London School of Economics.


B V DOSHI
Dr. Balkrishna Doshi is a fellow of the Royal Institute of British Architect and a Fellow of the Indian Institute of Architects. After initial study at the J J School of Architecture, Bombay, he worked for four years with Le Corbusier as Senior Designer (1951-54) in Paris and four more years in India to supervise his projects in Ahmedabad. His office Vastu Shilpa (Environmental design) was established in 1955.

Dr. Doshi has been a member of the Jury for several international and national competitions including the Indira Gandhi National Centre for Arts, Aga Khan Award for Architecture and the Pritzker Prize.

Apart from his international fame as an architect, Dr. Doshi is equally know as an educator and institution builder. He has been the first Founder Director of School of Architecture (1962-72) and School of Planning (1972-79), Ahmedabad. Dr. Doshi has been instrumental in establishing the nationally and internationally known research institute Vastu-Shilpa Foundation for Studies and Research in Environmental Design. As an academician, Dr. Doshi has been visiting the U.S.A. and Europe since 1958 and has held important chairs at American Universities.

In recognition of his distinguished contribution as a professional and as an academician, Dr. Doshi has received several international and national awards and honors.

Balkrishna Doshi is foremost among the modern Indian architects and has to his credit outstanding projects ranging from dozens of townships and several educational campuses, which include those for CEPT University Ahmedabad, NIFT New Delhi and IIM Bangalore.

His distinguished professional career is more than matched by his academic achievements as the first founder director of the School of Architecture, Ahmedabad started in 1962, which is regarded as both the pioneer and the fountainhead of modern architectural and planning education in India.
KASHEF CHOWDHURY
Kashef Mahboob Chowdhury was nominated for the Aga Khan Award for the Chandgaon Mosque in Chittagong, a religious space breaking away from the conventions of architecture of mosques. Later, he also designed the Friendship Centre in Gaibandha, acclaimed for exploring the subterranean landscape and architecture of Asia, thus, reflecting on the historic architecture of 'ruins'.

His practice Kashef Chowdhury/URBANA is located in a secluded cul-de-sac beside a lake in the heart of the capital city of Dhaka, Kashef states that architects need to be conscious of reality but at the same time need to have the creativity to 'reconsider' it. He encourages design evolving from real physical experiences like touch, sight, sound, matter and light making spaces which embody a certain spirit. In his practice and studio, time is of a paramount importance and is said to have functioned in daytime predominantly, avoiding any artificial lighting thus discouraging working late in office.

Kashef advocates that meaningful architecture is a product of patience and perseverance which are often diluted by the hasty attempts of most clients and architects. His office is known to give extended time to projects, if need be, to sincerely attempt a meticulous design. The philosophy of URBANA is based strongly on the historic roots of the region with an emphasis on climatic and material context.

Kashef graduated in architecture from the Bangladesh University of Engineering and Technology (BUET) in 1995 and was part of Glenn Murcutt Master Class in Sydney in 2006. Besides architecture, he has also worked as a professional photographer and has held seven solo exhibitions of his works so far. He divides his time between Dhaka and Kolkata.
KEVIN LOW
Drawing from graduate and postgraduate degrees in architecture and a minor in art history from the United States, Kevin lives, teaches and writes in the monsoon tropics, conducts critiques and workshops, and lectures through universities and institutes of architecture in Asia, Oceania, Europe and the United States.

Kevin also works alone, engaged in the discovery of how the big picture is less about finding radical solutions, than a radical way of framing questions. His work and writing has been published internationally, and includes clients that range from the rich and sometimes snooty, to the somewhat less privileged and usually unassuming.


ROHAN SHIVKUMAR
Rohan Shivkumar is an architect and an urban designer practicing in Mumbai. He is the Deputy Director at the Kamla Raheja Vidyanidhi Institute for Architecture and Environmental Studies. His work ranges from architectural and interior design projects, to urban research and consultancy projects on issues concerning housing, public space and sanitation. He is also co-director of 'Nostalgia for the future', a film on modernism and the architecture of the home. He is interested in exploring the many ways of reading and representing the city.

Rohan is the co-editor of the publication on an interdisciplinary research and art collaboration- 'Project Cinema City'. He also curates film programmes and writes occasionally on his blog 'Anarchytect' on cinema and urban issues and is working on a book discussing approaches to the design of homes among Indian architectural practices.


DURGANAND BALSAVAR
Durganand Balsavar (curator-Jaipur Architecture Festival) is an architect, social activist and writer. He founded Artes - Human settlements Research Collaborative and involved in war refugee rehabilitation, rural development, disaster mitigation and communities, regional ecologies and policy and cultural landscapes.

As founder of Confluence Ten Forum, he was invited to the Berlin Climate Policy VP 2050 and of the CMDA Master Plan Committee. He has been on the jury of IIT-Gandhinagar, on the advisory of National Army Memorial and authored two books.

Artes projects have found mention in DOMUS, Routledge Press, MIT Press, India Today etc. Artes played a significant role during Gujarat earthquake, tsunami, Sri Lankan war refugees program and Chennai floods in rehabilitation and policy guidelines. Balsavar's ecological future cities project was presented at the International Conference at Seoul National University.

Balsavar has lectured in several national and international Universities since his graduation from CEPT Ahmedabad in 1989 - and ETH Zurich. He writes on urbanity, education and the environment in various forums.
RAHUL GORE
Rahul Gore has studied architecture at Center for Environmental Planning and Technology (CEPT) in Ahmedabad and his Masters Program in Urban Design at the University of California Los Angeles (UCLA). He has worked a year with the world renowned architect, Fumihiko Maki, in Tokyo, Japan. He was the winner of the prestigious Bunka Cho Scholarship awarded by the Japanese government. Before this, he has worked with Rahul Mehrotra Associates for a period of two years on various architectural and interior projects.

Rahul is an Associate member of the Indian Institute of Architects (IIA) and a visiting juror at the KRVIA School of Architecture in Juhu, Mumbai. He has been a part of the award winning Indian team that won international acclaim at the International Urban Design Competition for the Design of Sustainable Cities hosted by Japan at the World Gas conference in June 2003.

In January 2001, Rahul set up OPOLIS, a multidisciplinary design practice. The firm prides itself in having stayed away from a signature style but believes that most complex and beautiful solutions are often the simplest. It has won several national and international awards in the past years and is published widely. Opolis is currently engaged with the Bihar Museum along with Maki and Associates, Tokyo and the Mumbai Museum Extension along with Steven Holl Architects, New York.
CHRISTOPHER BENNINGER
Prof. Benninger began his teaching career at The School of Architecture at Ahmedabad (1968), Harvard's Graduate School of Design (1969-71), The School of Planning at Ahmedabad (which he founded with Balkrishna Doshi in late 1971), and at the Centre for Development Studies and Activities.

Christopher Benninger's early architectural works were highly influenced by his association with modernist architects, under whom he studied at both Harvard and MIT, and the modernist pioneers of India who were his mentors in the 1960's and 70's. His early work like the Centre for Development Studies and Activities, and the United World College of India gave way to a more individualistic and robust style in the recent decade through works like the Samundra Institute of Maritime Studies, the Suzlon One Earth and the Indian Institute of Management at Kolkata. Multiple award winning Master Architect, Christopher's interest in urbanism took him to Sri Lanka, across India and up to the Himalayan Kingdom of Bhutan. His Supreme Court of Bhutan, National Ceremonial Plaza, UN House and other civic institutions in Bhutan continue the strong traditions of craftsmanship in Bhutan, applying them to modern programmatic contexts. He is presently engaged in the design of the Azim Premji University, the Indian Institute of Technology at Hyderabad, and many institutions around the city of Pune where his center, India House is situated.

His book, 'Letters To A Young Architect', won the Best Architecture Book of the Year Award 2012 and was on the Top Ten Best Selling Non-fiction Books List for many months, besides being translated into Chinese, Gujarati, Bangla and Tamil (2017). His latest book, 'Architecture for Modern India' (2016) is published in Italy by Skira and in USA/UK by Rizzoli/Thames and Hudson.


RAJEEV KATHPALIA
Rajeev Kathpalia is involved with Architecture, Urban Design and Planning projects throughout India for over 25 years as a partner at Vastu Shilpa Consultants.

This critically acclaimed practice is the recipient of several international and national awards and honors and its work has been published and exhibited extensively. In the recent past it has won several national competitions for campuses in India, notably the IIM in Udaipur and the international competition for the Nalanda University in Rajgir, Bihar. Most recently VSC was one of the three practices invited globally to compete for the Capital Complex for Andhra Pradesh's new Capital.

Besides running an acknowledged practice Rajeev has been teaching for the past 25 years. He is a member on the Board of Studies of several Urban Design faculties in India and has been a visiting Faculty at CEPT University Ahmedabad and The School of Planning and Architecture's Urban Design Program, New Delhi.

He is also the Director and Trustee of the Vastu Shilpa Foundation a not for profit research organization in environmental and Habitat Design. The Foundation's research has dealt extensively with slums, squatter settlements, relevant standards for these and low cost housing.


SAIF UL HAQUE
Saif Ul Haque (b. 1958, Dhaka) is the principal of architectural practice Saif Ul Haque Sthapati and Director (Research and Design) at the Bengal Institute, Dhaka, Bangladesh. Besides being involved in practice, research and education. he has written on topics related to architecture and urbanism. He was also involved in organizing few major exhibitions on architecture in Bangladesh.

His notable built works include Arcadia School, Govinda Gunalanker Hostel, Camp house for Archeologists, Banchte Shekha Training Center and BRAC Training Center, all in Bangladesh.


BEATRICE LEANZA
Beatrice Leanza is a curator and writer based in Beijing since 2002. She earned an MA in Asian studies from Ca'Foscari University (Venice) specializing in the history of Asian and contemporary Chinese art.

She has acted as Creative Director of Beijing Design Week since the 2013 edition and is currently head of its overseas program. She is co-curator of the international research project Across Chinese Cities since 2014 and as part of it curated the book 'Ideas in Action – Critical Design Practice in China' (2016). Her work is a focused exploration of practical and theoretical creativity engaging the contemporary urban condition from the vantage point of China.


MADHURA PREMATILLEKE
Madhura Prematilleke, principal of tA - teaM Architrave, Colombo, is a Sri Lankan Architect and Urban Designer. www.teamarchitrave.com

Madhura studied architecture at Moratuwa and Helsinki, and has worked, lectured and taught in Sri Lanka and internationally.

tA has won 15 design awards and their work has been published internationally, including in the Phaidon Atlas of Contemporary Architecture, Beyond Bawa, Architectural Review, Architectural Design, and A+U. Competition wins include the Jaffna Cultural Centre (2010).

The practice has an ethos of crafted modernity, with a strong engagement in creating verdant tropical environments in restricted urban contexts, and a questioning approach to the paradoxes of consumption and sustainability.


JAVIER CORVALAN
Javier Corvalán is an architect from the Faculty of Sciences and Technologies of The Catholic University Nuestra Señora de la Asunción UCA. He did his postgraduation from the University of La Sapienza, Rome and his PHD from Istitutto Universitario di Architettura di Venezia IUAV.

Javier teaches at the Faculty of Architecture Design and Arts of the National University of Asuncion FADA UNA and is a Research Professor at the Faculty of Science and Technology of the UCA. HE also teaches in several Latin American universities and holds the position of Visiting Professor at the Institutto Universitario di Achitettura di Venezia IUAV.

He started his professional practice as an independent from 1991, and has won several public and private competitions like the rehabilitation of the Municipal Theater of Asunción and Cultural Center of Spain, with several projects in international publications (cassabella, Domus, summa +, PLOT) being the most important O'Neil Ford Duograph Series, Volume 5 and in archiv, Rivista svizzera di architettura, iingegneria e urbanística.

In 2014 exhibits in the Triennale di Milano and the Biennale di Venezia.
PETER RICH
Peter Rich Architects is a practice dedicated to the creation of authentic contemporary African architecture. We strive to create places and spaces that are meaningful, moving and uplifting for all who occupy them.

For us, every project is different, demanding a bespoke solution. We work from first principles, working closely with clients and communities. Through sustained research into local context and conditions we develop solutions that are unique to their time and place.

Peter Rich Architects innovate on all projects, involving only the most talented consultants, from the very start of the design process.

Peter Rich Architects believe that technology should empower local people, contribute to the development of communities and build livelihoods.

Peter Rich Architects pride ourselves in designing and delivering high quality bespoke buildings that respond to the unique demands of the client and context.

During the 1970s, as a reaction to the destruction of South African indigenous settlements under apartheid, Peter researched and documented the traditional rural settlements of the southern ama-Ndebele. His work, consisting of measured hand drawn documentation and analytical sketches was brought to a local and international audience though extensive publication and prolific lecturing.

As a practicing architect and as Professor of Architecture at the University of the Witwatersrand in Johannesburg for 30 years, he developed a contemporary architectural vocabulary that built on his research. This was, controversially, a fusion of modernist influences (notably Loos, RM Schindler and Guedes) and spatial models derived from a local tribal vernacular.

Peter soon began to engage with tribal communities, acting as an architect, a facilitator or an activist, believing that it was ordinary people who were most in need of his services.

After 1994, the establishment of democracy allowed Peter to engage with a series of important cultural heritage projects. All of these projects were funded by the South African government, using Cultural tourism initiatives to battle poverty and heal the deep wounds of apartheid.

A significant body of distinctive work is testament to a lifetime commitment to the creation of an architecture borne from a deep understanding of context achieved through sustained research into local conditions and close collaboration with communities.

The Mapungubwe Interpretation Centre (awarded the "Building of the Year" at the World Architecture Festival in 2009) and the Alexandra Heritage Centre, both recently completed, have been widely published and applauded as mature built works, a culmination of a lifetimes passion for architecture and the uniquely African.

In 2010, in recognition of his achievements, Peter was awarded the prestigious Honorary Fellowship of the American Institute of Architects and The South African Institute of Architects Gold Medal (the highest award for Architectural achievement in South Africa).

website: www.peterricharchitects.co.za


PALINDA KANNANGARA
Palinda Kannangara describes his work as transforming ordinary spaces into beautiful, aesthetically recreated spaces. His practice accepts the realities of landscape without hesitating to challenge it, respects tradition without being restricted by it, and exploits technology without letting it incarcerate feelings.

Most of his designs are eco-friendly and draw heavily from the incorporation and creative use of nature, inspired by contemporary and tropical architecture to create practical, sublime designs. Palinda Kannangara loves experimenting with light, materials, and shapes to translate clients' aspirations into reality. Especially proficient in the interplay of simple, pure forms that create vivid, subtle, spatial qualities, Palinda Kannangara appreciates the inherent beauty in minimalism.


AIBAN S MAWKHROH
Aiban has been a practicing architect in Shillong after graduation from CEPT, Ahmedabad in 1989. He was the General Secretary of Meghalaya Tourism Development Forum from 2004-09 during the promotion of Mawlynnong as a tourist destination. He has been the chief resource person in the preparation of infrastructure for rural eco-tourism projects.

Aiban is a member of Meghalaya Heritage Authority and involved in the documentation of heritage buildings. He has given presentations on 'Khasi Traditional House Forms' organised by IGNCA, INTACH and Museum of Mankind, Bhopal.

As a firm, Atelier A+ strives to achieve climate responsive, sustainable and efficient solutions for every project. It provides facilitation for community based projects from design to preparing project reports.

These are mainly from the tourism sector either rural or suburban based and include government and semi - government initiatives. Atelier A+ also deals with restoration projects that range from traditional institutions in the Khasi Hills to the famous Assam-type houses and bungalows in and around Shillong. The company is also involved in residential, commercial and institutional institutions in Shillong and the Northeast.
ASSEL MUKASHENVA
I graduated from Columbia University, School of General Studies with the degree of Bachelor of Arts in Architecture. The theme of my research paper is Kazakhstani modern and Post Soviet Union architecture. Currently, I work on Architectural Exhibition "Expo 2017, Astana, Future Energy" in Kazakhstan. In summer 2017, Kazakhstan will launch the important international exhibition "Expo 2017 Future Energy". "Astana EXPO-2017" sets the task to gather the best developments in these fields in order to demonstrate not only the future energy, but also the problematic issues of developing countries, connected with the need in it, in the local territory within 93 days.


KAZI ASHRAF
As an architect and architectural historian, Ashraf works at the intersection of urbanism, landscape architecture, and architectural theory. He received his Masters from MIT and a PhD from the University of Pennsylvania. After having taught at the University of Pennsylvania, University of Hawaii at Manoa, Temple University and Pratt Institute in the US, Ashraf currently directs the Bengal Institute for Architecture, Landscapes and Settlements.

In Dhaka, Bangladesh Ashraf's publications include: Architecture and Asceticism in India (University of Hawaii Press, 2013); Designing Dhaka: A Manifesto for a Better City (LOKA, 2012); An Architect in Bangladesh: Conversations with Muzharul Islam (LOKA, 2014); special issue of Architectural Design "Made in India" (2007) that received the Pierre Vago Journalism Award from the International Committee of Architectural Critics; and, Louis Kahn's National Capital in Bangladesh (GA Edita,1994).

His articles and essays have appeared in the Architectural Review, Architectural Design, Journal of Architectural Education, RES, MIMAR and Economic and Political Weekly. Ashraf is the editor of a new publication series, Locations: An Anthology of Architecture and Urbanism (published by ORO Editions and Bengal Foundation).


TAN SZUE HANN
Tan Szue Hann is Singapore's 2015 BCA-SGBC Young Green Architect of the Year, and is Head of Sustainability and Principal Architect at Surbana Jurong, Singapore, where he heads the Sustainable Urban Solutions Group and leads the organisation's efforts in Sustainability across master plans, buildings and strategic pursuits. He is a Registered Architect, SIA Council Member, and Chairman of the SIA Sustainability Committee.

His current work focuses on sustainable and smart buildings and cities, including the recently-completed BCA SkyLab as Architect, and in sustainability framework planning for developers in Singapore. He was also appointed a 2016 World Cities Summit Young Leader.


SRDJAN JOVANOVIC WEISS
Srdjan Jovanovic Weiss was born in Subotica, Serbia. He then moved to the United States for architecture graduate studies at Harvard University. Weiss moved to New York and started practicing with Richard Gluckman and Robert Wilson. In 1998 he won the Second Prize in the 2G Competition to expand Mies Barcelona Pavillion and soon after co-founded an art & architectural practice called Normal Group for Architecture. This collaboration lasted until 2003 when Jovanovic Weiss founded NAO (Normal Architecture Office), a collaborative studio for design of architecture, cities and exhibitions and a successor of Normal Group for Architecture based in New York City.

He also co-founded SMS (School of Missing Studies), international art & architecture group for studying cities marked or undergoing abrupt transition. Weiss's theoretical work is mostly known for analysis of Balkan cities in the aftermath of war and crisis in Yugoslavia during 1990s. He coined the term Turbo Architecture and contributed to understanding the geo-political process termed Balkanization and its defining effects on newly emerged capital cities after the fall of Yugoslavia. Weiss defines Balkanization as a bottom-up geo-political process that new capital cities of new countries go through to assert their own urban distinction and character among competing new capital cities and against hegemonic forces of globalization.

Jovanovic Weiss has authored books that include Socialist Architecture: The Vanishing Act (JRP Ringier, 2012, with Armin Linke) and Almost Architecture (Merz & Akademie Solitude, 2006).

He is currently a faculty at Columbia University GSAPP and Penn Design Architecture and he taught at Harvard University GSD, Tyler School of Art Temple University and Cornell University AAP/NYC.


RITU RAJ RAI
Ritu Raj is based in Kathmandu, Nepal. He is a faculty member at Tribhuvan University, Department of Architecture and Urban Planning.

Having graduated from CEPT, Ahmedabad, Ritu Raj has been teaching Design Studio and History of Modern Architecture. With an M.Sc. in Urban Planning, Rai has researched affordable housing projects in Kathmandu. He has been involved in designing schools in Nepal.


HUANG SHENG YUAN
Huang is the Principal Architect at Fieldoffice Architects. He teaches at the Graduate Institute of Architecture and Sustainable Planning, National Ilan University and at the Department of Architecture, Chung Yuan University. He has previously taught in the Department of Architecture, North Carolina State University.

Earlier Huang has worked as a Project Associate at Eric Owen Moss Architects.

Huang is a Master of Architecture from Yale University and is a Bachelor of Architecture from Tunghai University.
SANGEETA PRASAD
Sangeeta Prasad - CEO, Integrated Cities and Industrial Clusters – holds an Electrical Engineering degree from Jadavpur University and an MBA from IIM Lucknow. Apart from being a Chevening Scholar, UK, she also has to her credit a General Management Programme at INSEAD, Fountainbleu.

Before joining the Mahindra Group, Sangeeta has had extensive exposure in Tata Steel in various functions and businesses.

Sangeeta has the distinction of being a Speaker at some of the most prestigious international events like the World Economic Forum, Davos, 2012 on "URBANISATION - Trends, Challenges and Opportunities". She was also part of the FICCI delegation to Hannover Messe 2015 and a panellist in the FICCI Seminar on "Smart Cities – the Urban Challenge at the same forum.

Apart from being a Member of the Board of Governors, IIM Lucknow, Sangeeta is an invitee on the FICCI Task Force on Smart Cities and is also on the Steering Committee of CII National Mission on Smart Cities

Some of Sangeeta's other interests are Quizzing, Reading, Travelling, Music
PREM CHANDAVARKAR
Prem Chandavarkar is the managing partner of CnT Architects, an award-winning and widely published architectural practice based in Bangalore in India. CnT seeks to construct a collaborative practice, where design excellence is pursued within a structure of practice that does not center on specific personalities. Prem is a former Executive Director of Srishti School of Art Design & Technology in Bangalore, and has been a guest lecturer at architecture colleges in India, the United States of America, New Zealand and Switzerland.

Besides design practice at CnT, he writes and lectures on a wide variety of subjects covering architecture, urbanism, art, spirituality, cultural studies, politics and education.
MADHUSUDHAN CHALASANI
Madhusudhan was born in Hyderabad, India, and received a Master of Architecture from Harvard University. He has won several awards as a student, including "Union of International Architects Prize" for academic excellence and professional potential for the Asia Pacific Zone. He has collaborated with a variety of practices in India and worked for two years in renowned international practices in Europe. His practice reflects a rich mix of cultural connections with a young and cosmopolitan team that cumulatively speaks nine languages.

Studio MADe is an idea-based architectural practice founded in 2007 in Hyderabad, India, by Madhusudhan. Recently it opened a new window in Pamplona, Spain. The studio has achieved international recognition through its pluralistic approaches towards culture-specific design solutions. This includes the Holcim Award for Sustainable Construction (Asia Pacific) and the European Centre for Architecture and the Chicago Athenaeum International Architecture Awards 2014, for a school in Jharkhand and an award-winning design for the Central Mosque at Pristina and the restructuring of the Tuljabhavani Temple Precinct. Recently, the studio won an international competition to create an art museum in Suncheon City, South Korea.

The studio believes that good architecture promotes a greater awareness of our cultural and environmental surroundings. It consciously seeks projects and clients that echo this passion about the formalised world. In this search for the unexpected, the sketch-model-draw method is employed as a principle generator of ideas, and projects are developed slowly, often over months.
SHABBIR UNWALA
Shabbir Unwala started the architectural journey in 1989 after graduating in 1986 from Academy of Architecture.

In the beginning, to understand this chimera called architecture started as a design build practice where Shabbir also undertook structural design, landscaping – infact, all the responsibilities that the architects have over the years outsourced to other professionals. It was this experience in the formative years that gave Shabbir a deeper understanding about material, structure and construction.

His other love – Movies – also saw him take on the role of an assistant art director for a Canadian film and then as an assistant director for a Marathi feature film.

Between these two loves, Shabbir now spends his time to reconcile the intangible art of story-telling into the tangible art of making buildings.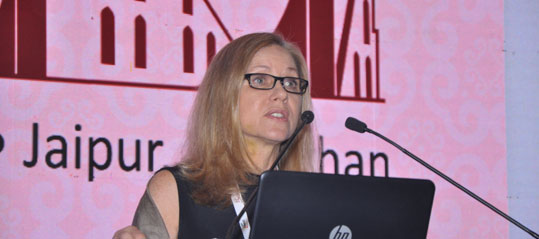 Jaipur Architecture Festival
Venue: Jaipur Exhibition & Convention Centre, Sitapura, Jaipur
Duration: February 1-February 2, 2019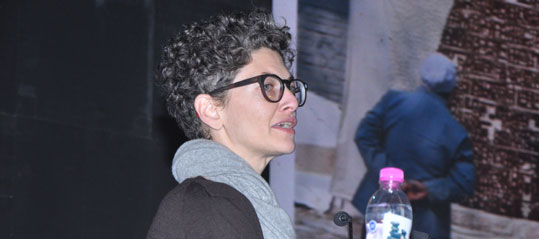 Jaipur Architecture Festival
Venue: Jaipur Exhibition & Convention Centre, Sitapura, Jaipur
Duration: February 1-February 2, 2019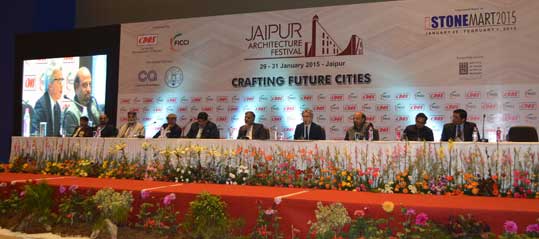 Jaipur Architecture Festival
Venue: Jaipur Exhibition & Convention Centre, Sitapura, Jaipur
Duration: February 1-February 2, 2019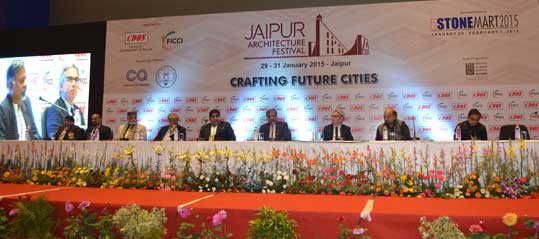 Jaipur Architecture Festival
Venue: Jaipur Exhibition & Convention Centre, Sitapura, Jaipur
Duration: February 1-February 2, 2019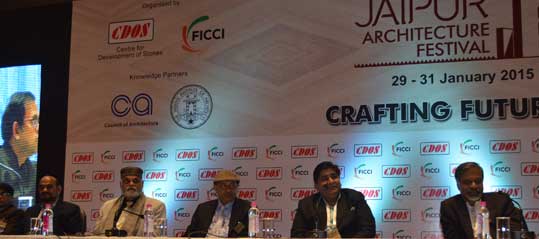 Jaipur Architecture Festival
Venue: Jaipur Exhibition & Convention Centre, Sitapura, Jaipur
Duration: February 1-February 2, 2019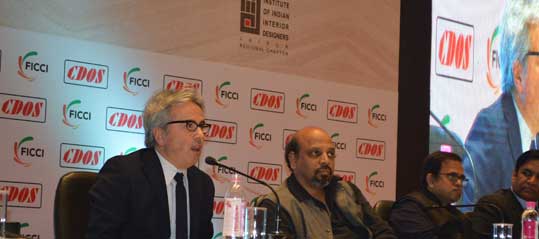 Jaipur Architectural Festival
Venue: Jaipur Exhibition & Convention Centre, Sitapura, Jaipur
Duration: February 1-February 2, 2019
Jaipur Architecture Festival Brochure
Architects, environmentalists, policy makers, artists, students, academicians, government, scientists, conservationists and designers from India, Australia, France, Taiwan, Sri Lanka, Bangladesh and SAARC countries - meet at Jaipur to exchange ideas.